Bo Bartlett, a close friend and student of
Andrew Wyeth
, commented on his teacher's view of some of the negative criticism he received:
People only make you swerve. I won't show anybody anything I'm working on. If they hate it, it's a bad thing, and if they like it, it's a bad thing. An artist has to be ingrown to be any good.
I couldn't agree with him more! In the end every artist will stand or fall on their own taste and perspective.
Andrew Wyeth has had a special influence on me. When I was very young my father had prints of Wyeth's work hanging throughout our home. They seemed almost magical, they spoke of something very deep and serious. I can still remember looking at them at length, completely moved by his work even as a young boy.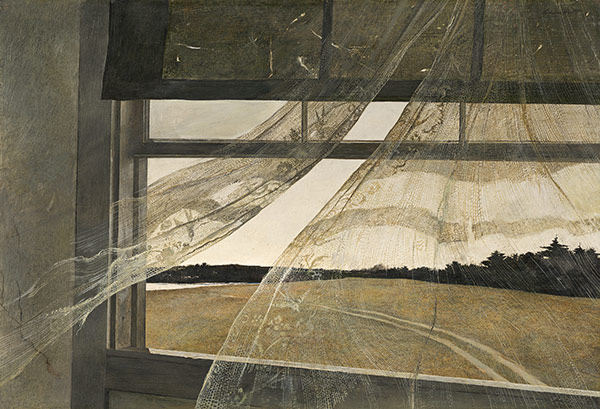 "Wind from the Sea" click to enlarge
What makes his work stand out to me personally is not the exact realism that he is capable of — there are many artists capable of that. It is something else, the treatment of subject, the honesty, the truth, the humbleness in Wyeth's voice.
The other night I watched this documentary,
Michael Palin in Wyeth's World
:
Palin talks about how Wyeth waited two months for the wind to change so that he could capture it in "Wind from the Sea". It is this patience and regard for his subject that really comes through in his work. It was very inspiring to see how Wyeth worked with his subjects and how important that was to his compositions.